So you want to rock leggings under skirts but aren't sure how to pull it off for different occasions? You've come to the right place. This style guide will show you how to seamlessly incorporate leggings into any outfit without committing a fashion faux pas. Whether you're heading to brunch, the office, or date night, we've got you covered. Leggings under skirts can be a chic and comfortable look when styled properly. The key is choosing a skirt and legging combo that is appropriate for the event, pairing it with complementary pieces, and having confidence in your outfit choice. Read on for our tips to ensure you're turning heads for all the right reasons. Leggings under skirts, done right, is a style that you'll want to wear on repeat.
When to Wear Leggings Under Skirts
Leggings under skirts are perfect for when you want to stay cozy but still look cute.
Casual Occasions
For running errands or a casual coffee date, leggings under a midi skirt or dress are ideal. Pair them with boots or sneakers and a comfy top for a laid-back look. Stick to darker, solid colored leggings and match them to the main color of your skirt.
Workwear
If your office dress code allows leggings, wearing them under a knee-length skirt or dress is a great option for the workweek. Choose a skirt in a professional fabric like ponte or tweed. For extra polish, add heels and a nice blouse. Make sure your leggings are opaque and match your skirt color.
Fancy Events
For a night out or special event, leggings under an evening skirt amp up the glamor while keeping you warm. Look for leggings in a shiny fabric like faux leather or lace to complement your skirt. Add strappy heels, a dressy top and statement jewelry. Now you have an outfit that's dressy yet comfortable for dancing the night away!
Leggings under skirts give you extra coverage and warmth without sacrificing style. Whether for work or play, this trendy look lets you stay comfortable and confident all day or night. Try pairing different colors and textures of leggings and skirts to create outfits for any occasion. Your legs will thank you!
How to Style Leggings Under Casual Skirts
When it comes to styling leggings under casual skirts, you have plenty of options. Here are some tips to get you started:
Mix and Match Colors
Play around with different color combinations of leggings and skirts. Black leggings pair well with almost any casual skirt color, from denim blues to vibrant patterns. For a fun, youthful look, try patterned leggings under a solid skirt or vice versa.
Consider Length
The length of your leggings and skirt will impact the overall silhouette. For a streamlined look, choose leggings and a skirt of similar length, like knee-length or midi. Ankle-length leggings under a mini or knee-length skirt will highlight your legs. For extra coverage and warmth, long leggings under a maxi skirt can't be beat.
Add Accessories
Complete your look with accessories like boots, jewelry, scarves or belts. Ankle or knee-high boots are perfect for most legging and skirt pairings. A long necklace or patterned scarf helps draw the eye up and creates a focal point. Cinch in your waist with a stylish belt over the skirt.
Dress it Up or Down
The versatility of leggings under skirts means you can dress up or down and still look chic. For a casual daytime look, wear a basic tee or tank top. To dress it up for night, pair a lace or sequined camisole with heels and minimal jewelry. A blazer or jacket and booties also transition the outfit from day to evening.
With so many colors, patterns, lengths, and accessories to choose from, you'll never run out of ways to style leggings under your favorite casual skirts. Get creative – the options are endless!
Dressing Up Leggings and Skirts for Work and Special Occasions
When it comes to dressing up leggings and skirts for work or a night out, you have lots of stylish options. Here are some tips to pull together a polished look for any occasion:
Add a Blazer or Jacket
throwing on a fitted blazer or stylish jacket is an easy way to make leggings and a skirt look more professional and put together. Opt for a solid color or minimal print in a fabric like ponte or light wool. A cropped style will show off your skirt, while a longer blazer provides more coverage.
Choose Fashionable Footwear
Swap your everyday flats or sneakers for a pair of heels, booties or loafers. Block heels, wedge sandals or low kitten heels are comfortable options if you'll be on your feet a lot. Ankle boots with a low heel also work well for cooler weather. Stylish loafers or ballet flats in leather or suede can be dressed up or down.
Pick a Nice Top
A button-down shirt, silk blouse or wrap top help create a polished look. Tuck your top into the skirt to accentuate your waist. If the skirt sits at your natural waist, a cropped top may be too short—opt for a top that hits at least mid-hip.
Add Accessories
Don't forget the finishing touches! A statement necklace, patterned scarf, stylish belt or jeweled hair clip provide those extra details that complete an outfit. Keep accessories balanced—don't overpower an already bold print on your skirt or top.
Consider the Event
Think about the formality of the occasion to determine how dressy you need to be. For a casual work event or lunch with friends, a blazer and nice top with loafers may be sufficient. A cocktail party calls for an evening skirt, silk blouse and strappy heels. And for a formal wedding or gala, consider wearing a midi or maxi skirt with a dressy top, heels and dazzling accessories.
With the right combination of pieces in flattering cuts and fabrics, leggings and skirts can be dressed up for any occasion. Have fun with it and let your personal style shine through! Focusing on fit, quality and versatility will give you endless options for creating stylish outfits, from work to the weekends and everything in between.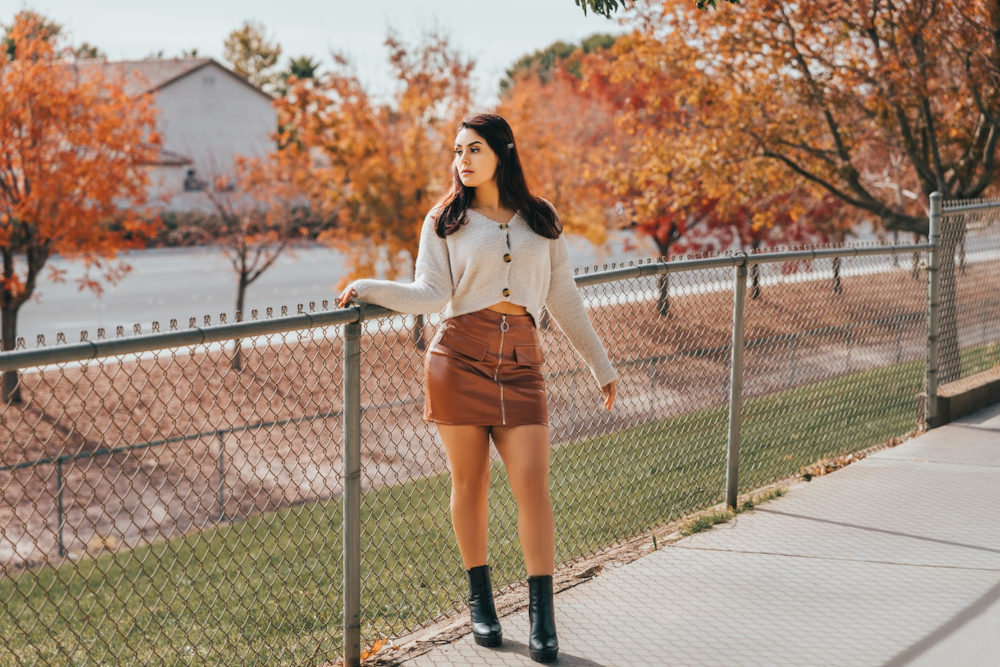 The Best Fabrics for Wearing Leggings Under Skirts
When wearing leggings under skirts, the fabric choices for both pieces are key to creating a stylish and comfortable outfit. Some of the best options to pair together include:
Cotton
is a natural fiber that's breathable and helps wick moisture away from your body. leggings and skirts, like jersey knit maxi skirts and bike shorts, are cozy and laid-back. This makes cotton a great choice for casual everyday wear.
is a synthetic fiber that's wrinkle-resistant, durable, and often blended with spandex for stretch. ponte leggings and pencil skirts in solid colors are sleek and polished, perfect for work or evenings out.lace or chiffon skirts paired with black leggings are dressy yet comfortable for events.
Rayon
Rayon is a semi-synthetic fiber made from wood pulp that drapes beautifully and feels silky soft. Flowy rayon maxi skirts, wrap skirts or skater skirts matched with rayon or spandex blend leggings are feminine and flattering, ideal for brunch or shopping with friends.
Faux Leather
Faux leather leggings and skirts make a bold fashion statement. Pair faux leather leggings with an oversized sweater and faux leather mini or midi skirt for a rocker-chic look. Or pair faux leather leggings with a drapey tee or tank under a faux leather pencil skirt for a sexy night out.
In the end, choose fabrics for your leggings and skirt that best fit the occasion and that you feel most at ease in. Mixing and matching pieces in your closet can lead to new outfit discoveries. And when in doubt, you can never go wrong with cotton and spandex for unparalleled comfort.
Choosing Flattering Leggings to Wear Under Your Skirts
When choosing leggings to wear under your skirts, consider both fashion and function. The right pair of leggings can provide coverage, warmth and style. Look for leggings made of comfortable, stretchy and opaque fabrics like cotton, polyester or rayon blends.
Opaque and Warm
For modesty and warmth, choose thicker, non-see-through leggings made of cotton, fleece or ponte material. These provide full coverage under shorter skirts and help insulate your legs in colder weather. Fleece-lined leggings are a cozy choice for winter.
Patterned and Textured
Add visual interest with patterned, textured or lace leggings. Subtle prints, textures and lace details show through under sheer skirts but still appear polished. Look for small-scale geometric patterns, ribbed knits, cable knits or floral lace leggings. Pair patterned leggings with a solid skirt and neutral pumps for an office-appropriate look.
Black, Gray and Neutral Shades
For the most versatile and flattering option, choose leggings in black, gray or neutral skin-toned shades. These coordinate well with any skirt color and help create a smooth line under the skirt. Black leggings in particular are a classic, slimming choice to wear under any skirt.
The Right Fit
Look for leggings that provide compression and shaping. Leggings that are too loose won't smooth your silhouette under skirts. At the same time, leggings that are too tight can be uncomfortable and show every bump. For the best fit, choose leggings labeled "compression" or "shaping" and buy according to your skirt size.
With the right pair of leggings, you'll stay comfortable, stylish and confident wearing skirts of any length. Focus on fit, fabric, pattern and color to find leggings that complement your personal style and keep you covered in all the right places.
Conclusion
So now you're armed with style advice and outfit ideas to rock leggings under your favorite skirts. Whether you want to add warmth, show off your curves, or just need an extra layer of coverage, leggings can do the trick without cramping your style. The best part is leggings come in so many colors, patterns, and fabrics that you'll never run out of new looks to try. So raid your closet, grab your cutest skirt and most flattering pair of leggings and get ready to turn heads. Leggings under skirts is a trend that's here to stay, allowing you to be stylish and comfortable no matter the occasion or time of year.